The Summit, is the international flagship event of the WFC platform and fast becoming one of the most respected on the continent.
The Summit is an essential spot on the calendar for advocates committed to influence gender equity in Africa. The Summit is the culmination of WFC's core vision to create thriving gender equal business environments in Africa and our commitment to the rise of powerful female business leaders.
The Name
Originally known in 2018 as the "women in business leadership meeting", the event was renamed The Summit in October 2019, to bring greater urgency to the most pressing issues at stake, namely:
The need for women to own and steer the roadmap of female business leadership in Africa.
The increasingly high profile of the attendants. That is, top level executives and key influencers from the private sector.
The progressively higher levels of panel discussions.
The creation of original, high-impact, proprietary content required by female African leaders, hungry to succeed.
The name also conveys the gravitas of the WFC vision and purpose:
A fairer, stronger, more competitive African business world, empowered by gender-equal transformative leadership.
At the heart of Africa's growth narrative
Together, female executives at the top of their game and prominent influencers operating in or for Africa, can maximize their impact, potentiate their leadership and transform the economies of an entire continent.
The take out
Senior women leaders know how pivotal excellence and mastery are to the exercise of female authority. They are fully committed to taking the measures required: self-development, elite-level coaching, continuous education, in order for their leadership to gain strength and value.
It is therefore paramount to provide them with hands-on, high-impact, results-driven, boardroom-tested blueprints for female business leadership in Africa. It also means equipping senior women leaders with the innovative tools, high-level engagement and self-awareness needed to kickstart their leadership into hyper-growth and to make it transformative.
GROW
Bespoke self-development tools
GROW
High level workshops
Peer to peer mentoring
Masterclasses
UNDERSTAND
Top level business strategic insights
UNDERSTAND
Panels
Action-oriented debates & discussions
Renowned guest speakers
TAKE ACTION
Targeted solution-driven initiatives
TAKE ACTION
Commitments
Roadmap and key milestones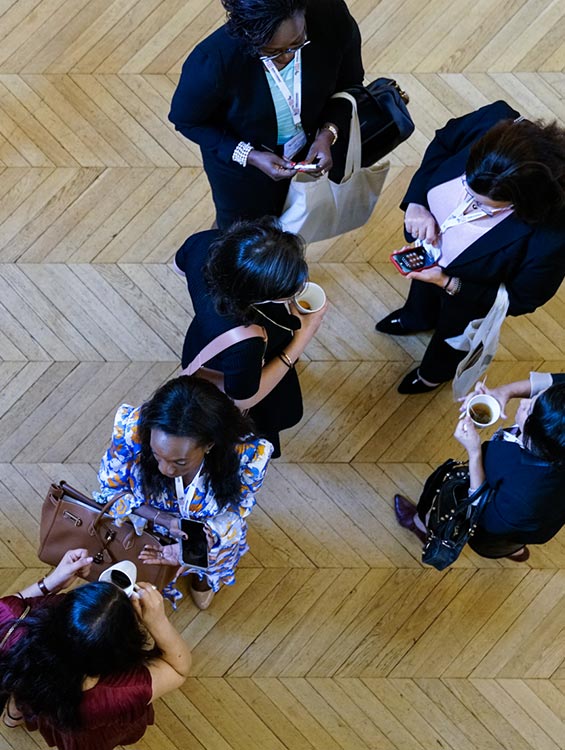 CONNECT
Regional clusters and chapters